3.5 Stars
I originally read this somewhere between 3 and 4 years ago, so I'd forgotten that it's pretty short (27 pages), but since it was a freebie I'm not complaining.


This can easily be read just as an erotic short story but if, like me, you become addicted to Jenny and Mark's story it continues through 5 more books (8 if you count the Velvet series). One thing that stands out is that the author certainly has a way with words, despite the initial scenario requiring somewhat of a suspension of disbelief, I thoroughly enjoyed reading this boundary pushing, slightly (very?) dub-con, erotic romance.


Whilst I can imagine this type of school existing for the willing, enrolling unwilling participants and 'selling them on' would open them to a whole host of criminal charges, should that person ever get to contact the police. That said, this is fun erotic fiction and so, in the interests of enjoyment, I'm happy to let that little fact slide.


Despite Jenny being a selfish, spoilt individual, I kind of felt sorry for her. Particularly as it struck me that poor parenting might have been at least partly to blame. This is too light a read to worry about such deep topics (at the moment anyway). The heat level is quite very high, though the content of this book is fairly tame. I do seem to remember it getting kinkier and kinkier as the series progressed and I'm certainly going to be 'Learning the Ropes' next 😉!
4 Stars – because it's brilliant but still only 37 pages
This is another titillating, naughty and down right deliciously depraved snippet of Jenny's ongoing introduction to the life of a pony girl. Books 1 – 3 are all short stories, they would combine together to make a story somewhere between novella and novel in length. Each is a vignette, a scene of Jenny's torment and slide into the strange world of the Albrecht Stables. She isn't there willingly, so the entire thing is very dub-con/non-con but at the same time it isn't overly dark. Jenny is unwilling but also very much enjoys the punishments she is subjected to. There is nothing that would cause a threat to her life, nor cause severe, permanent or lasting damage to her body.


Whilst Jenny will suffer pain, humiliation and indignities galore, she is 'only' subjected to BDSM style activities. I say style because we all (should) know that the tenets of BDSM are based around SSC (Safe, Sane and Consensual), RACK (Risk Aware Consensual Kink) and/or PRICK (Personal Responsibility, Informed, Consensual Kink). Jenny has NOT given any consent so this immediately goes against everything BDSM holds dear. However it IS a work of fiction and not purporting to be an instructional guide, indeed the author has a very clear disclaimer regarding that very fact, so for me this is a non-issue.


I am loving this naughty story and am now moving on to 'Hot to Trot' for a little more boundary pushing fun.
4 Stars for 55 pages of filthy fun
Humiliation upon humiliation is heaped upon our poor heroine. Despite her being a rather petulant, spoilt and selfish individual, I do feel some sympathy for her. This is something the author does quite well. She makes her characters just imperfect enough, just the wrong side of right, so that whilst you like them, you don't feel too much empathy or sorrow for their terrible plight! She enjoys a lot of that plight and a multitude of orgasms does sound enjoyable. However forced orgasm torture probably isn't called torture because it's so much fun.


We get more and more intrigue thrown in, and if I ever met Jenny's dad I think I would castrate him with a blunt table knife before stabbing him in the eye with a rusty spoon. There are other players afoot in this game, and lots of backstabbing, not to mention tongue-stabbing – though that's a very different activity all together.


I'm impressed with how well Jenny's holding everything together. I'm sure I would have descended into a quivering mess of forlorn sobs or become a raving lunatic after being subjected to the same treatment. After all this is very much non-con, though very gentle non-con as there is no rape, violence or physical abuse. Being forced to train as a pony-girl does probably count as mental and emotional abuse though – even if she does enjoy some of it. Or maybe she's just so incredibly used to getting her own way that poor Jenny's brain can't comprehend fully the truth of her situation. Either way it makes for a darn good, kinkily depraved, read.


I now own all 9 the books in this series, but overloading on arc commitments for the past two years means I'm very behind on finishing them. So the re-read is two-fold, firstly to remind myself of events so I can understand the books I haven't read, second is that I read them in my pre-review on goodreads days, and not having a review on here bugs the heck out of me. This is the last and longest of the 'short' parts of the story, there are 3 additional full length books in Pony Tales plus the three Velvet Collar books (which in many ways can be read as a stand alone trilogy).
4.5 Stars for the one where Jenny is used, abused and given a new name.
Where Pony Tales 1 -3 introduced us to Albrecht stables and the erotic delights that await Jenny there, this book gives us a more rounded story. I thoroughly enjoyed the book, loved the heat factor, adored the intrigue and can not wait to find out what happens next. Not only do we have lots of delightful pony-girl training to look forward to, but there is a clearly emerging story as well. One that is clearly about more than just simple erotica. But just as Jenny was teased to the edge of orgasm (repeatedly), so are we teased, by the author, with little hints and clues and snippets of information.


This book is significantly longer than the previous three (120 pages), allowing us to learn more about Mark as well as providing us with plenty of depraved, kinky torture of the hapless Jennifer. We understand that there is more to this story than just forced pony play, with the author introducing some finely crafted elements of suspense. We aren't seeing the whole picture yet – where would the fun be in that? But we certainly know a lot more than Jenny does. Or should that now be P? Thus far we have gotten to know Jenny quite intimately, on all levels 😉, every pun intended! In Named and Shamed the personality of other main players is also built on, turning them from caricatures/outlines into recognisable, distinct characters.


There were so many times I wanted to slap Mark. His arrogant head is so far up his own behind and he is so busy thinking with his not so little head, that he is missing big clues. Particularly the one that points out how annoyed Jenny gets when he treats her like she is less than human. Which is a paradox because the objectification also turns her on. Unlike Mark, she never loses her intelligence, wisely knowing which battles to fight and making the best of a bad situation by finding pleasure where she can, whilst biding her time until she can somehow escape.
4.5 Stars
I loved this much longer installment of the Pony Tales series. We got more gloriously kinky pony play, more dub-con deliciousness (which Jennifer enjoys immensely) along with lots more clues and hints as to what is in play behind the scenes. There was more of Mark in his 'real' life and some scenes of him at play with his submissives.


I will say that we still aren't at a 'romance' point in the story, though there is a definite connection between Mark and Jennifer. There are scenes that some might interpret as cheating, or on the borders of it, but as there is no actual relationship/commitment between them, I don't view it as such.


Jennifer learns some shocking truths in this book, enough almost to break her resolve. She also suffers the consequences of her naive/foolish trainer choice. Added to all that, she is subject to 48 hours of the most cruel sexual torture, humiliated beyond belief, set impossible to achieve tasks, barely fed and watered, driven to exhaustion and abused by a sadist. Despite all that she finds herself enjoying much of it and using the rest of it to keep herself angry and sane.


The writing is good, with some nice little touches of humour. The plot moves along well and this is an excellent read for when you want to indulge in a scorching hot, NSFW, filthily depraved story but also want a decent plot with it, rather than just crudeness. I'm off to read the final book now!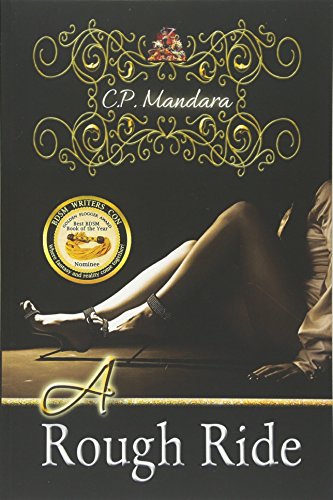 5 Stars and saving the best until last(?)
How can a book be both wrong, funny and super sexy all at the same time? I'm not sure but Christina Mandara has certainly achieved that with The Ties That Bind. She has also produced an amazing story, full of suspense, peril, snark and heat.


Over the last few books we got to know Jenny, in this book I felt we really got to grips with knowing Mark, and I really liked what I saw. Unlike the previous five books, in this one we spend barely any time at Albrecht stables, though there was still lots of delightful kinky and perverse fun to be enjoyed, involving carousel horses and fish tanks.


There are dark elements to the story, though it doesn't 'feel' dark, in part due to Jennifer's mental attitude and fortitude throughout the books. The vast majority of the kinky sexual torment that she is subjected to would be considered at best dubious consent, and sometimes non-consensual. It is softened by the fact that Jenny thoroughly enjoys most of what she is subjected to, and further tempered by both a message from the author in the foreword and the fact that so very much of this story is fairy tale like in it's stretching of the possible.


I found myself totally absorbed in the story, spellbound by the excellent writing, drawn in by great characters (both good and bad), mesmerised by the twisted eroticism and entranced by the chemistry between Jenny and Mark. Theirs is not a conventional relationship, in fact it is still debatable if it could be called a relationship at all. It is, however, a compelling and all encompassing connection.


With each book read my enjoyment of this series has continued to increase. I really enjoyed the first few books but I am now totally invested in this pair and can't wait to see how their future plays out in the Velvet Lies series. Just so long as Michael Redcliffe, and a few others, get their comeuppance!