Winter's Arrow: A Dark Snow White Retelling by Lexi C Foss
Title: Winter's Arrow: A Dark Snow White Retelling
Collection: Sinister Fairy Tales Collection
Release: May 14, 2020
Genre: Dark Fairy Tale Retelling
Goodreads: https://www.goodreads.com/book/show/53157837-winter-s-arrow
For the first time in what feels a long time, mainly due to the uncertain times in which we presently live, I have read a book that I just didn't want to put down. A book that drew me totally and profoundly into it's world, had me utterly entranced with every word, had me battling between the need to read quickly and find out what would happen next with stretching out the experience and time with the characters for as long as possible.


From the blurb I was expecting a far less battle-ready Snow/Winter, I also thought it suggested a timeline of months or years, rather than a week or so. And that is the ONLY fault I really found with the story. Also, if I'm being totally honest, I wasn't sure how a more fantasy style story, suggested by the blurb, would have fitted into the x-clan series. It wouldn't, so the fact that this was very much in line with the rest of the series was actually a relief. In this book, and the series as a whole, the author has created a world that I never want to leave.


Winter and Kazak get off to quite an explosive start, albeit a shaky one too. They have barely exchanged more than a few words when circumstances force their hands into embarking on a very unexpected and very complicated journey. Twists, turns, harsh lessons, shocking discoveries all play out into a layered story that enables (forces?) both Winter and Kazak to undergo personal growth in a way that felt utterly believable – even if this is a paranormal/dystopian/omegaverse story!


Whilst the basic rule of law is that Alphas lead and Omegas submit, Winter never once came across as weak or powerless. In a very short period of time her entire world was tipped upside down and she had to learn new rules and adapt VERY quickly. Yes some of her decisions were reckless, yes she made some errors, but more as a consequence of the situation forced on her rather than a weak or irritating personality. I loved her.


I also loved Kazak, mainly because he respected her capabilities and needed her strength, though pack law meant that in public Winter needed to mind her step. He was occasionally an alpha-hole, but his willingness to listen, to explain, also made him very redeemable. His very imperfections were what made him perfect, particularly the fact that he was, sort of, willing to admit to his mistakes.


This pair, their journey (both physical and emotional), their passion, their learning, their story was just perfect. So as I said at the beginning – I want, no I NEED, more!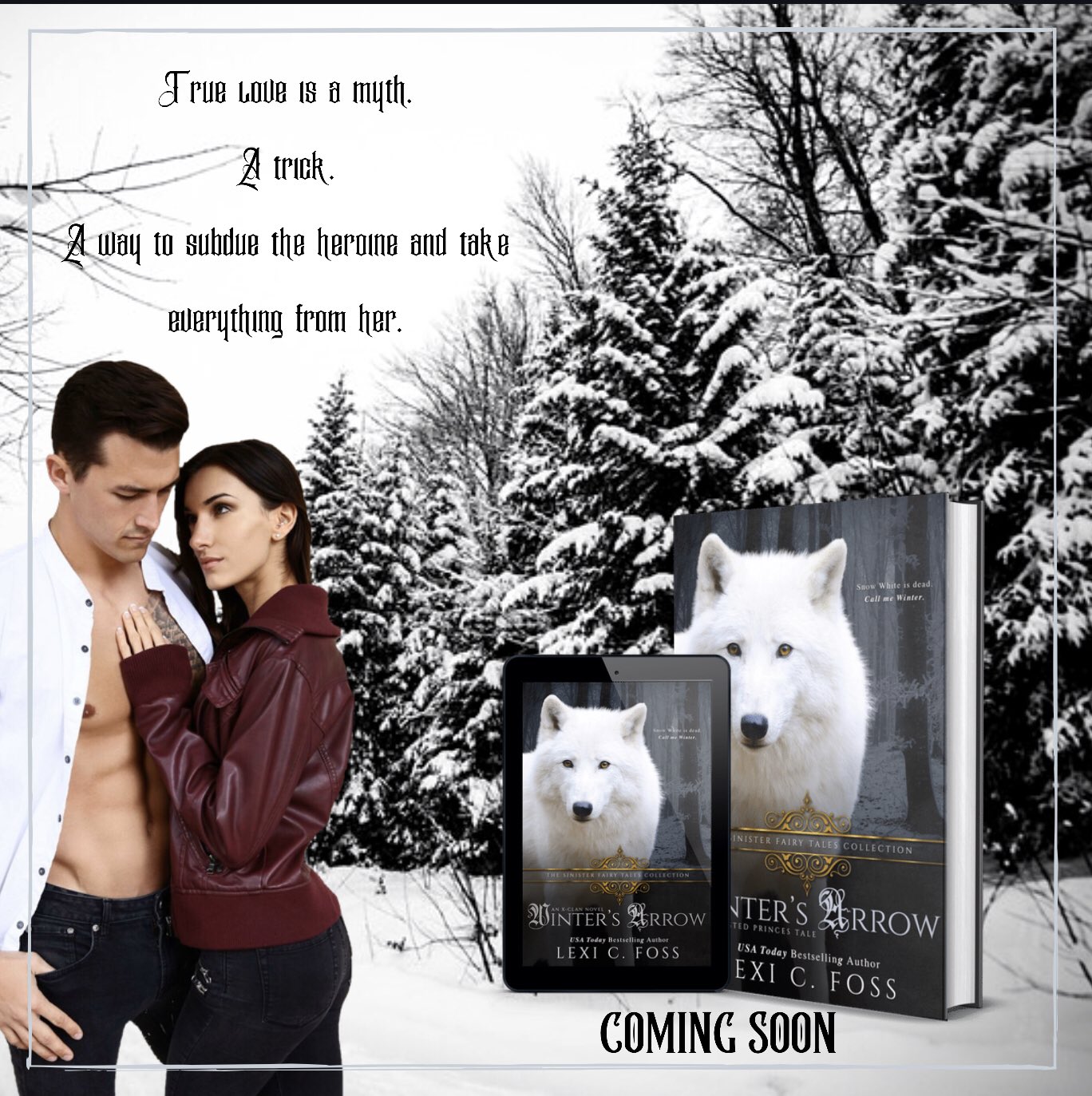 Blurb:

True love is a myth.
A trick.
A way to subdue the heroine and take everything from her.


Winter Snow
My "true love" conspired with my stepmother to have me killed and stole my throne.
But they failed.
I've been in hiding and refining my vengeance. I'm no longer the damsel they mistook me for once upon a time. I'm coming for them. And my kingdom, too.
Who needs dwarves when you have wolves?
Who needs blades when you have arrows?
My name used to be Snow. Now they call me the Winter's Arrow. Because I'm here to destroy them all.


Kazek Flor
I'm not a prince but an Alpha. And I take what I want, when I want it. So when I found an Omega princess dying in the woods, I took her and made her mine.
I'll train her. Embolden her. Help her seek the vengeance she is owed. Then, together, we'll take down Winter Sector and the wicked Queen of Mirrors.
Run fast, little wolves.
Your former princess is about to rise with me by her side.
And we're thirsting for your blood.
Buy Links:
Universal: https://geni.us/fMQU0hq
Amazon US: https://amzn.to/2Aihzak
Amazon CA: https://amzn.to/2LACKah
Amazon UK: https://amzn.to/2WsyGiv
Amazon AU: https://amzn.to/3bmSnfD
Excerpt:
"Help," I begged. "Need… help."
Kazek frowned at me. "You're going into estrus, Snow. I'm planning to help you."
I shook my head, a whine catching in my throat. He didn't understand. "No knot." I couldn't accept it. This had to be part of Vanessa's plan, to make an Alpha think he could fuck me fully.
She'd planned to entice Enrique with this spell, to force him to knot me.
That was what she'd meant by having methods to induce the sensations. She'd cast some wicked enchantment that convinced Alphas I could handle them in a rut.
Tears collected in my eyes.
I'd escaped her clutches, only to fall into the hands of someone so much worse—an Alpha driven by need.
She'd won.
After all that… she'd still won.
I crumpled against him, sobbing beneath the crushing emotions of betrayal and defeat. And worse, arousal.
Because I wanted him.
Lexi C. Foss Author Bio:
USA Today Bestselling Author Lexi C. Foss loves to play in dark worlds, especially the ones that bite. She lives in Atlanta, Georgia with her husband and their furry children. When not writing, she's busy crossing items off her travel bucket list, or chasing eclipses around the globe. She's quirky, consumes way too much coffee, and loves to swim.
Lexi C. Foss Social Media Links
Website: http://www.lexicfoss.com
Newsletter: http://www.lexicfoss.com/newsletter
Facebook: https://www.Facebook.com/LexiCFoss
Twitter: https://www.Twitter.com/LexiCFoss
Instagram: https://www.Instagram.com/LexiCFoss
Giveaway: $5 Amazon Gift Card
http://www.rafflecopter.com/rafl/display/81aa78942252/
Also Available

Venom (Sinister Fairy Tales Collection) by Dee Garcia
Amazon US: https://amzn.to/32bmFOF
Barnes & Noble: http://bit.ly/31fSncd
Kobo: http://bit.ly/2VC9ns0
iTunes: https://apple.co/32cLzh1

Cold Queen (Sinister Fairy Tales Collection) by K Webster
Amazon US: https://amzn.to/31XvTxm
Eden Books: http://bit.ly/2Wl4qUN
Barnes & Noble: https://bit.ly/2pHdlnt
Apple: https://apple.co/2pSa84x
Kobo: https://bit.ly/2niT07e

Sacrifice (Sinister Fairy Tales Collection) by Isabelle N. Blanco
Amazon US: https://amzn.to/2CutWhg
Amazon CA: https://amzn.to/36LrPUt
Amazon UK: https://amzn.to/34M619f
Amazon AU: https://amzn.to/2NApwMs

Insolent (Sinister Fairy Tales Collection) by Cynthia A. Rodriguez
Amazon US: https://amzn.to/37BUdc4
Amazon CA: https://amzn.to/2RuYCaT
Amazon UK: https://amzn.to/2rmDusW
Amazon AU: https://amzn.to/2PjmtrD

Madness (Sinister Fairy Tales Collection) by Kailee Reese Samuels
Amazon US: http://bit.ly/SamuelsMADNESS
Amazon CA: https://amzn.to/34pNija
Amazon UK: https://amzn.to/2RUPHjf
Amazon AU: https://amzn.to/35qCaDZ

Siren (Sinister Fairy Tales Collection) by Hazel Grace
Universal: https://books2read.com/u/bM9gqV
Amazon US: https://amzn.to/2v24KhO
Amazon CA: https://amzn.to/2Os99RT
Amazon UK: https://amzn.to/2v6rBss
Amazon AU: https://amzn.to/2UseIDM

Legend (Sinister Fairy Tales Collection) by M.R. Leahy
Amazon US: https://amzn.to/2U6zzeg
Amazon CA: https://amzn.to/2UwCZbI
Amazon UK: https://amzn.to/2vTauLr
Amazon AU: https://amzn.to/3beoEXk

Mirage (Sinister Fairy Tales Collection) by C.M. Radcliff
Amazon US: https://amzn.to/2SFshi7
Amazon CA: https://amzn.to/2HypsJa
Amazon UK: https://amzn.to/38Feg9n
Amazon AU: https://amzn.to/2P4gKqn

Imprisoned (Sinister Fairy Tales Collection) by KL Donn
Amazon: https://amzn.to/2mTCt96
Apple: https://apple.co/2llcIOv
Kobo: http://bit.ly/2mQTbpD
Nook: http://bit.ly/2mV7ytb
Eden Books: https://edenbooks.org/product/imprisoned/

Lock (Sinister Fairy Tales Collection) by Kimberly Knight
Universal (Books2Read): http://bit.ly/2moQVpD
Amazon: https://amzn.to/2QklSqK
Barnes & Noble: http://bit.ly/3cZCVYZ
iBooks: https://apple.co/2Wf9qfP
Kobo: http://bit.ly/3d4dwxa

Stealing Cinderella (Sinister Fairy Tales Collection) by A. Zavarelli
Amazon US: https://amzn.to/34bD6fW
Amazon CA: https://amzn.to/2xJSyDA
Amazon UK: https://amzn.to/2wVVEVa
Amazon AU: https://amzn.to/2xKnYd2

Abducted (Sinister Fairy Tales Collection) by K.I. Lynn
Universal: https://books2read.com/AbductedKILynn
Amazon: https://amzn.to/3dgX645
iBooks: https://apple.co/2KSsKIS
Barnes & Noble: https://bit.ly/3aTBnO0
Kobo: https://bit.ly/3aXEKDG